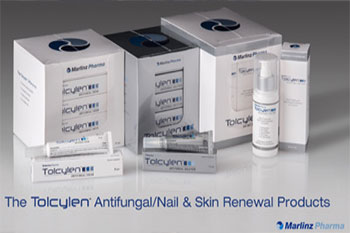 Tolcylen Antifungal/Nail Renewal Solution
Anyone who suffers from toenail fungus is a candidate for Tolcylen, an easy topical treatment that is applied to the affected toenails twice a day.
Patients who use Tolcylen can expect to see a 92% improvement in the appearance of the nail after 8 weeks. The nail should appear thinner with less discoloration.
Tolcylen is different from other products on the market because it combines 7 different ingredients to penetrate the nail plate and kill the fungus: two antifungals, 3 ingredients to thin, soften and make the nail plate more permeable, Jojoba oil to hydrate and help nail plate penetration, and Vitamin E to improve nail growth and appearance.
Vionic Shoes
From slippers to high heels, Vionic shoes provide ultimate comfort and support for everyday activities while still maintaining style. The shoes are made with a built-in medical grade orthotic, created by podiatrists to hug the arch. Designed to help promote the alignment of the feet, Vionic shoes help with many types of foot deformities including high arches, flat foot, heel pain, and more.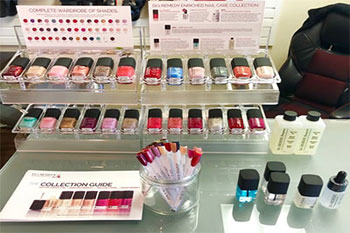 Dr. Remedy's Enriched Nail Care
Created by podiatrists to combat the appearance of dry, brittle, and discolored nails, Dr.'s Remedy Enriched Nail Care covers unsightly nails while also enhancing their appearance. As a great alternative to traditional nail polish, Dr.'s Remedy products are all infused with a special blend of ingredients including wheat protein, tea tree oil, garlic bulb extract, and lavender.
Custom Orthotics / Diabetic Inserts / Diabetic Shoes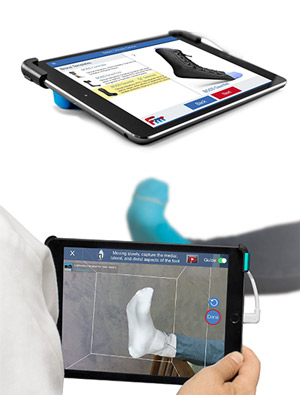 Orthotics, unlike typical shoe inserts, are prescribed by a podiatrist to help provide your feet with cushion and support. They can also aid in correcting a specific foot condition that you may be dealing with. Conditions such as diabetes, plantar fasciitis, bursitis, arthritis, and flat feet can highly benefit from the use of orthotics, and orthotics may assist you in alleviating pain that often comes with those ailments.
Orthotics can come in many different shapes and sizes and can be made from different types of materials. The purpose of a custom orthotic is for it to match your specific needs. Some orthotics may be rigid or functional, while others are soft and accommodative. Rigid orthotics are made to help ease foot aches and strains, and they're made from harder materials like plastic or carbon fiber. Soft orthotics serve to take the pressure off of uncomfortable areas of the feet, such as sores or foot ulcers. This type of orthotic is typically made from soft, compression materials.
Custom orthotics are made to mold to your feet and should fit your shoes perfectly. If you feel like the orthotic isn't fitted properly, it's extremely important you let your podiatrist know right away so they can assist in getting you as comfortable as possible.
In order to ensure your orthotic is doing its job, it's recommended that you keep a healthy line of communication with your podiatrist and visit at their requested schedule. Doing this will keep track of gradual improvement and will allow you to discuss any possible adjustments needed. If you feel orthotics are a treatment option for you, we recommend you meet with a podiatrist for a proper diagnosis and to discuss how to improve your foot health.